How to fix broken internal links
When a visitor clicks on a link on your website and lands on a missing page, it's considered a broken internal link. Several potential causes for a broken link include page deletion, page relocation, and incorrect URLs. The frustration caused by broken internal links is enough for some visitors to decide they'd rather bounce to the next website and not return. Broken internal links can also have a negative impact on your website's SEO.
As long as you can identify broken internal links and know how to fix them there's little to worry about.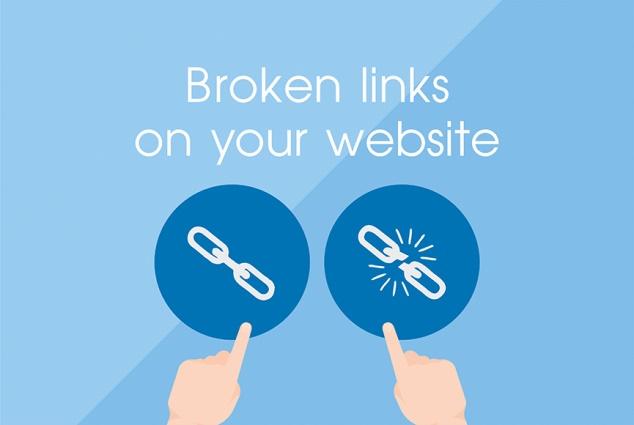 Why internal links are important
In regards to SEO, internal links are crucial for helping search engines comprehend your site's structure. Internal links also aid visitors in navigating your site and locating the content they're trying to find.
Google has stated that the structure of your site's internal links is a significant ranking factor, so clearly they're an important aspect of your website. Based on what Google has said, if you aren't checking the internal links on your site you could be losing out on search engine traffic.
How to find out if your website has broken internal links
You could manually test every one of your internal links, but that's rather time-consuming and there's a good chance you'll overlook a link or two. If you have to do a manual audit the XML sitemap can be used to view your entire website's link structure and speed up the process. The better option for figuring out if you have broken internal links is to use a specialized website analysis tool.
Evisio is designed to help website owners analyze a number of technical SEO elements, including broken internal links. After performing an automated check, evisio will send an alert if any issue such as a broken link is found. It's literally the easiest way to discover broken internal links.
If you have just reorganized your website, some of your links may still take visitors to the previous location of the page. You can use a tool like Screaming Frog to verify that's the case. Simply type in your website URL to check. Once the tool has finished its crawl, it will produce a list of all the internal links on your website. The list can be downloaded as a CSV file for further use. But again, this is mostly a manual process that can take time.
Using Google Analytics to Optimize Internal Links
Google Analytics reporting can help you prioritize which links to remove and can show you which links are clicked the most. If you put in the time to prioritize these activities, you can reduce the workload of monitoring internal links.
Here is a Google Analytics report to find broken links:

Follow Google's basic instructions to detect and fix all of the broken internal links on your site. As a result, your site's search engine optimization (SEO) will boost your visitors' satisfaction and improve rankings. However, this is once again a manual process that will need to be done regularly to monitor links and detect when they're broken.
This strategy is most useful for sites that get a lot of traffic to just a handful of pages instead of thousands of pages.
How to fix broken internal links
If you have discovered broken internal links on your website, the next step is to fix them. Possible solutions include:
Redirecting the link: Link redirection involves changing the destination of an existing link so that it goes to a different page if the target page has been moved. This will prevent users from landing on the wrong page and won't hurt your website's search engine rankings.
Updating the link: If the link is incorrect or the URL contains a typo, you can change it to refer to the proper location. Doing so with any and all broken links will boost your website's search engine optimization.
Removing the link: In some cases, removing a broken link is the best option. The linked page may have been removed and is therefore no longer accessible, which is the most common reason for removing broken links.
If you're looking for SEO project management software to better manage your workflow, clients, and business – evisio.co is your solution. Try evisio.co for free here!