Why Evisio
It's the All-Around Tool That Makes SEO Management Automated, Organized and Easy
Created by an SEO consultant that understands the struggle, evisio is the only SEO platform that automates auditing and brings all the moving pieces together so that SEO management is easier for direct marketing agencies, consultants and in-house teams.
How It Works
SEO That Practically Manages Itself
Evisio is where SEO auditing, management and optimization happens all in one place. The SEO software tools within evisio offer transparency into the SEO process, giving users a play-by-play every step of the way so you can visualize how it all applies to your website.
Step 1. Submit Your Sitemap .XML URL
Once you've signed up for an account the first thing you'll need to do is submit your sitemap.xml URL for an initial SEO audit. Don't have the sitemap.xml URL? No problem! You can run a soft crawl first.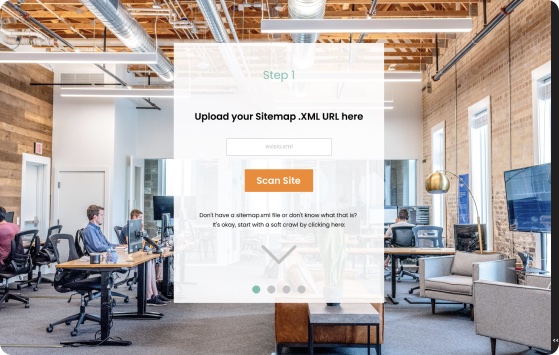 Step 2. Set the Scan Frequency
Decide how often you want to scan your website for SEO errors and fixes. Daily, weekly, monthly - it's up to you.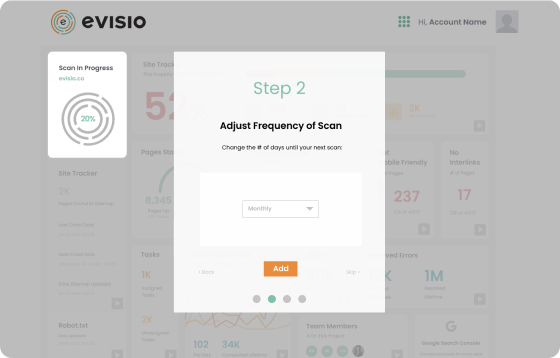 Step 3. Add Team Members
Simply input a team member's email address to add them to the project. An unlimited number of users can be added!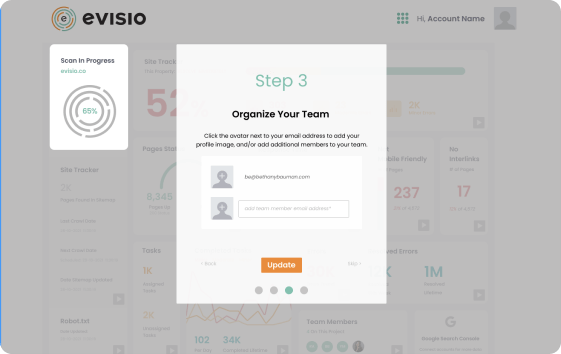 Step 4. Assign the First Task
Choose a team member and assign the first task. Or you can skip this step to launch the dashboard and see which tasks evisio suggests you address first.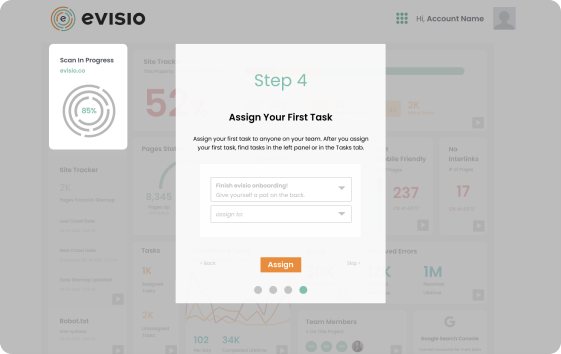 Step 5. Start Analyzing SEO Insights
You'll immediately be taken to your dashboard where SEO insights are already populating and there's a running checklist of related tasks that can be assigned with a click.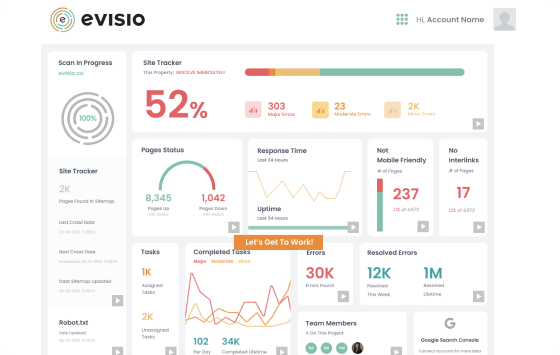 "As a contractor, I realized there wasn't a good tool for SEO operations. Essentially, SEO tools give is a lot of data that gets lost in email and docs. evisio builds core SEO tasks automatically, helps you manage teams, and that results to happier long term clients."
Michael Ramirez
Founder & CEO, SearchRPM Inc
Packages and Pricing
Activate an evisio Account or try the FREE 7-day trial.
There's a plan for SEO teams of all sizes from a single consultant with freelance partners to digital marketing agencies with dozens of employees.
Select a plan below to get started or sign up for the FREE 7-day trial.
Basic Plan
5
projects/unique domains
Consultant Plan
14
projects/unique domains
Agency Plan
30
projects/unique domains
Custom Plan
Customized plan
for larger websites
Personalized
account support
SEO Software That Keeps You Compliant With Updates and Algorithm Changes
With evisio, users get a resource that is constantly keeping up with the latest SEO changes and provides solutions on how to positively work around them. New updates are backed into evisio making it easier to plan and prepare for the changes throughout the digital marketing landscape.
evisio is a Part of Your SEO Team
evisio isn't just SEO project management software. It's like onboarding a whole team worth of expertise with one tool! It's your SEO auditor and centralized hub where everyone can stay connected while working toward the same SEO goals. Teams can work around shared metrics and resources to fully maximize website performance through optimized project management.
Need additional support? Our team has your team covered from development to diagnostic testing. Contact us to learn more about evisio SEO support.
Why Marketing Agencies, Consultants and In-House SEO Teams Love evisio
Learn how evisio has helped others manage SEO more efficiently.
Where You've Seen evisio