Everything you need to know about non-secure pages
Have you ever accessed a website, only to be confronted with a warning that the page you are on is "not secure"? There's a good chance if you get that warning that you'll immediately click away from the window or close it entirely to protect your computer or mobile device from any possible issues.
If you own or manage a website you want to be sure that it's secure and visitors to your site won't have to deal with any security problems. Most people are relieved to learn there is a solution if your website is deemed "not secure" and there are ways of preventing the issue. Whether you already have a website that's getting the warning or you're in the process of developing a new website, here's what you need to know about "not secure" notifications, why site security is essential, and how to make your site more secure for visitors.
What exactly does it imply when it says that my website is "not secure"?
Your browser can use either the secure HTTPS protocol or the less secure HTTP protocol when connecting to a website. The "Not Secure" warning appears if the URL of the page you're visiting starts with "HTTP," which indicates an unsafe connection. Visitors to the page will not be able to use a secure connection.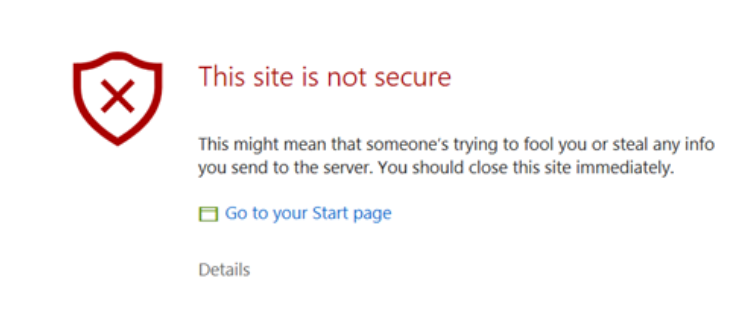 Why a secure website is necessary
Having an unprotected website opens the door to a wide variety of problems. It's possible that both you and your site's visitors could be more vulnerable to viruses and hackers if you don't take adequate precautions.
Here are a few more important reasons why a secure website is crucial:
Gain the confidence of your site's visitors
Maintaining a safe and secure website is essential in gaining your users' confidence. Once your connection is safe, the "not secure" indication will be replaced by a lock icon next to the URL that tells users they're visiting a secure website.
Improve rankings in search engines
Your Google page rank will improve after you earn the trust of site visitors. Increasing your site's SEO credibility is as simple as fixing any security issues that may be causing users to bounce off your site.
Ensure visitor safety
A hacker strikes a website somewhere on the world wide web every 39 seconds. The most important reason to ensure your website is secure is it safeguards your users. All it takes is an SSL certificate to create an invisible wall between your business and the hackers, protecting your data and your users' information.
How to fix a "not secure" website
For the reasons noted above, a "not secure" warning needs to be addressed ASAP. The upside is there's a simple solution – an SSL certificate.
You can add an SSL certificate to your site in a few different ways, including through a hosting service. The most popular free SSL hosting companies are:
SiteGround
Bluehost
WP Engine
HostGator
A2 Hosting
InMotion Hosting
Your website should load in HTTPS mode by default. If your site defaults to opening in HTTP rather than HTTPS, you'll need to investigate the issue to determine the best method for making it open in HTTPS.
Final word on non-secure pages
The last thing you want is for visitors to think your website isn't secure. Because if they do they'll leave, and they won't come back. Getting an SSL certificate is a small investment to make to ensure you don't get a "not secure" warning that scares off visitors.