How to fix Google Analytics code?
Nowadays, the vast majority of businesses have a website. One of the many benefits of a website is having the ability to analyze performance metrics to see if the website is accomplishing its goals. Your website visitors' behavior and actions can be tracked by implementing Google Analytics codes on your website.
Typically implementing the code is problem-free, but you could run into a related Google Analytics code issue that needs to be addressed.
Why it's important to fix Google Analytics code issues
Every minute that your Google Analytics code isn't working is a minute that you're missing valuable data and insights. It could throw off all your numbers for more than just the day, which impacts SEO efforts.
When you add the Google Analytics code to your website, you will generate a page view for every page that a visitor views. This information is processed by Google Analytics to give you a great deal of information, including the following:
Time spent on your website by a single user.
The length of time spent on each page.
The order in which visitors viewed pages.
What internal links were clicked.
Having all of this information at your disposal gives you a competitive edge and helps a business make the most of their marketing budget.
Ways to fix Google Analytics code issues
Google Analytics data is too important to let issues linger. You'll want to address Google Analytics code issues as soon as they're identified. Here's what you can do to troubleshoot and fix problems related to Google Analytics code on your website.
How to verify Google Analytics code is installed
The first thing you'll want to do is verify that Google Analytics is installed properly. You can see if a site uses Google Analytics by looking at its site code. You can right-click on a page in Google Chrome to see its PAGE SOURCE (site code).
Google Analytics tracking information can be found in the code, as shown in the image below:

If the Google Analytics code is there and installed properly you'll need to dig deeper to discover the problem.
Potential Google Analytics problems
Problem: You haven't installed Google Analytics code or it ended up being the wrong code installation.
Solution: Always check that the appropriate code has been installed for the account that you are currently logged into. Simply navigate to the "Admin" section of your account, which can be found on the right side of the top-level menu, and then select "Tracking Info," followed by "Tracking Code" in the Property column.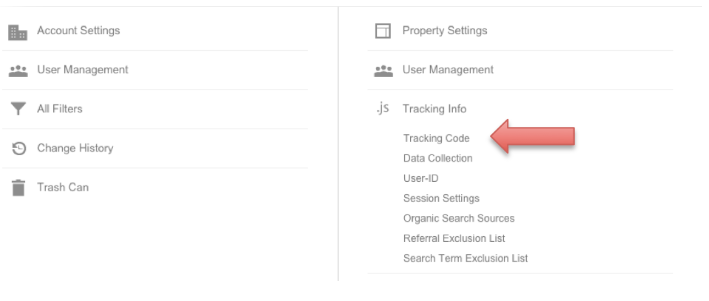 In this section, you will find specific instructions and code that is ready to be copied and pasted, which needs to be installed on every page you want to track. If you are not confident with the back-end of your website, your developer should be involved in the process.
Problem: You added a new page template.
Solution: Adding the Google Analytics tag to every page template is required. Once added, the code will be applied to every page on your site that uses the same page template thereafter. So if you have two different page templates you'll need to paste the code into the two header modules separately. Have three different page layouts? Then you'll have three separate header modules that each need the Google Analytics code.
Monitoring Google Analytics issues
You shouldn't have to worry about a Google Analytics code issue causing bigger problems. As an asynchronous code, Google Analytics can run at the same time as other scripts that are running on the page. If a code takes time to run or has a bug, the other code running asynchronously is unaffected.
You'll also have evisio as a safety net. The auditing system will send you an alert the moment an issue is detected that could impact your SEO along with information on how to fix it.
If you're looking for SEO project management software to better manage your workflow, clients, and business – evisio.co is your solution. Try evisio.co for free here!